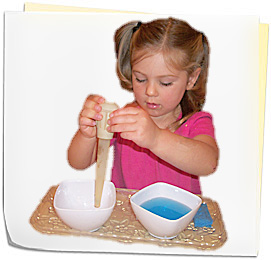 Little Acorns Montessori is located on the corner of Chanticleer and Brommer in the Live Oak District of Santa Cruz. The Little Acorns Montessori facility has undergone complete remodeling and updating.
Our programs introduce children to the wonder and variety in the world around them; countries, people, animals, plants, textures, colors, foods, so that they may become interested and accepting of diversity and respectful of all around them. The classroom curriculum includes practical life activities, language, foundation and advanced math experiences, phonics, science, geography, art, music, children's literature, and fine motor skills. We carefully observe each child and tailor projects as much as possible to challenge each child at their own level.
Interspersed throughout the day we have free play outdoors in a large yard, and the children will be growing flowers and vegetables in the garden.
Children take great pride in independence and we encourage that wherever possible. They take out and put away projects and materials. They help to keep their classroom clean and orderly and are encouraged to dress and undress themselves as needed.
We offer a variety of schedules including half days, partial weeks and extended day care. Our center is open from 7:30am to 6:00pm, Monday through Friday. We have offer a morning half day program with a pick-up time of 12:30 for children 3 to 6 years old and 12:15 for children under 3. Our full day program offers up to 9 hours of care. We require a minimum schedule of three half days per week, and can develop a schedule that includes a combination of full and half days if needed.
We have two sister schools, Scotts Valley Children's Center, located at 255B Mt. Hermon Rd, in Scotts Valley between Safeway and CVS, and Quail Hollow Montessori, located at 187 Laurel Dr. in Felton.
Infant Class
We welcome the newest members of our community, 6 months to 24 months, in a warm, intimate, and safe environment. The emphasis is on building the infant's sense of belonging and early sensorial and motor development. We provide lots of cuddling and one-on-one attention, as well as circle time and singing. We do not use high chairs, swings or play pens. We provide only activities which require the child to be actively exploring and experiencing. We do not have any electronic entertainment toys. The children are free to move about at all times. We have a one to four teacher child ratio.
Toddlers Class
Two year olds are developing fine motor skills. They are beginning to experiment with independence (What two your old doesn't say "I want to do it myself!") and are very interested in practical life activities. They are working on dressing and undressing themselves, potty training, pouring, drawing, and speaking. They are working on social skills such as managing transitions and respecting classroom guidelines. We have a one to six teacher child ratio.
Preschool and Kindergarten Class
Children between 3 and 6 years old are in a rapid cycle of development. They absorb knowledge at an incredible rate and find great pleasure in learning. We provide a variety of materials, activities and field trips to engage and excite them. In the Montessori classroom great care is taken in creating an organized environment, with specially designed learning activities presented in a pleasing manner. A wide variety of academic learning experiences are provided, including math, expressive and receptive language, natural sciences, geography and culture. In addition, we provide art, sensorial and practical life activities which build independence, self-confidence, fine motor skills and observational skills. Children move freely about the classroom, choosing what to work with and teachers provide individual lessons and guidance as needed. Our director and teachers have completed a Montessori Primary Teacher Training Program. We have a one to nine teacher child ratio.
Enrollment Process
Little Acorns Montessori welcomes and encourages you to come and observe our classrooms. If you have never experienced a Montessori classroom environment, you will be amazed at the peaceful atmosphere, and the focus and high level of work demonstrated by the children.
We offer tour appointments Monday through Friday at 9:30am. Call 831-464-1400 or email mindy@littleacornsmontessori.com to schedule your tour. Your tour will be guided by our founder, Mindy Gillen, who will explain the teaching philosophy and methods and answer your questions. We encourage you to bring your child to visit when you come to observe. We will not accept a child until the child has had a classroom visit.
We are a year-round program and can accept new enrollments at any time, space permitting. There is a $65 non-refundable application fee due when the application is submitted. If we are not able to enroll your child immediately, we will let you know when we will be able to enroll your child. If you would like to reserve a future start date and schedule, we require payment of the first month's tuition as a non-refundable deposit. There is a $250 fee for a delayed start date. Please recognize that when we reserve your spot, we will be turning away other families, and a delayed or cancelled start date can have a great cost to us. You may choose only to be put on our waitlist with a $250 non-refundable deposit, but children with reserved start date will take priority over children on the waitlist.
Students are accepted based on their ability to learn and develop in the Montessori environment and on their ability to respond to direction. We attempt to keep a balance of age and gender in the classroom. We give priority enrollment placement to siblings of currently enrolled families.